I am a big fan of green and it has made my heart sing to see the trend growing stronger for green kitchens.  In fact, I'm wondering whether green is the new navy blue.  I swoon over most kitchens with colour, although my own one is white!  But I can dream and I am pretty sure that if I had another kitchen to makeover, I would opt for a gorgeous rich grey green.  Have you considered green for your kitchen cabinetry?
Before you discount the idea, I have some fabulous inspiration here to show you.
Ideas for green kitchen cabinetry
Classic or Contemporary Kitchens
Green kitchens are often associated with a country style or Shaker cabinetry in an older style home.  There is no doubt that it looks really appealing in this setting but it is also suited to a contemporary style too.
The kitchen above is a classic Shaker style with gorgeous copper tones to offset the rich green.  The green here is leaning towards blue in the spectrum.  The benchtops and splashbacks have been kept very simple so that the main star of the room is the colour.
The kitchen above is a completely different look, but by using a softer sage green, plain cabinetry, waterfall benches and an understated style, the look is clearly a far more contemporary one.
Consider the type of green that you select
If you love green but are concerned that it may be overwhelming or that you may tire of it, then you should select one that contains a large degree of grey.  The kitchen above is clearly a green one, but this isn't the first thing that you notice about it.  I really love the clean lines of this kitchen and the way the grey is offset by crisp white and clean lines.
A true country style kitchen is a mid forest green.  Although this colour is rich and quite striking, by limiting it to the lower cabinets only, the overall look is more pared back.  The timber and brass elements complement the colour really well too.
If you love pretty interiors, using a soft mint green with fresh white will help you to achieve this look.  This colour is clean and uplifting and certainly brings personality to the room.
A fresh kitchen and one that is very classic is a white one.  However, they can become a little sterile, but by using a very soft grey/green on the lower cabinets and then a very clean crisp white for walls, shelving and upper cabinetry, you really get the best of both looks.  If the lower cabinetry was white, it would be appealing, but would be like so many other kitchens.  This is certainly a white kitchen, but by introducing just some grey/green, it takes the design to another level.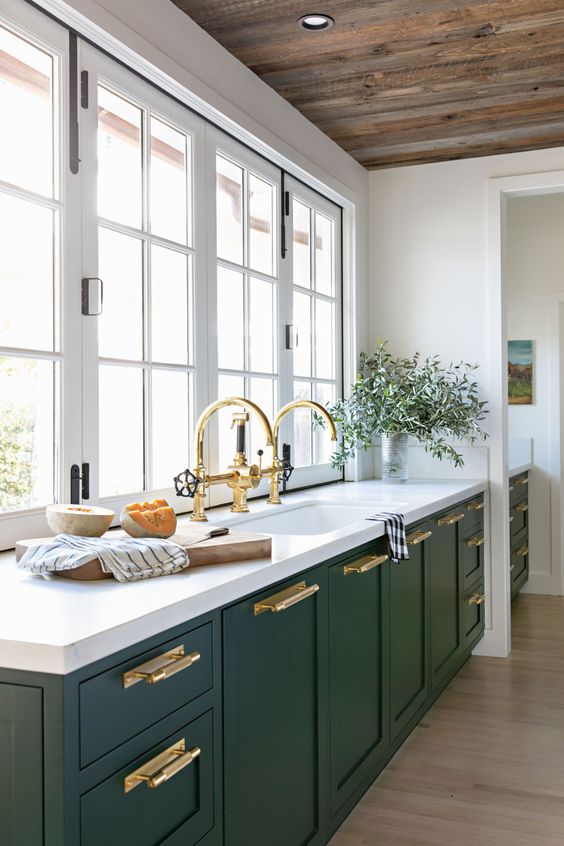 Dark forest green works particularly well with brass tapware and handles as it cuts through the richness of the colour well.  In fact, I generally prefer a warmer metal for the door handles and taps over a traditional chrome with green.  Aged brass handles are beautiful too if the full on polished brass is too much for you.,
DeVol Kitchens has introduced us to so many beautiful ideas.  They are not afraid to introduce colour and if you need some inspiration for a kitchen that is just a little out of the ordinary, you should explore their website.  The kitchen above and below is an interesting design.  Although it is very classic with the deep green colour, Shaker profile doors and glass cabinets, it pairs perfectly with a contemporary style of decorating.
An island bench is a good place to start with colour however, you can always break up the design of a coloured kitchen with a neutral bench too.  The look is pulled together nicely with the kitchen runner.
Good old paint is the perfect standby to introduce colour into a space.  If you love the idea of a green kitchen but either already have a simple white one or you don't feel you would like to commit to it for cabinets, then you can always paint the walls.  I love the kitchen below from Farrow & Ball.  It has personality and rich colour, that can be easily and affordably changed over a weekend.
Final word on green kitchens
I would love to hear what the verdict is.  Are you a fan of green kitchens?  Or do you think this is a step too far for you?  Using colour can be scary.  None of us want to make expensive mistakes that we will regret, but I do think that even with a soft pale green/grey that this could be a way to really bring the wow factor into your home.  If you like the idea of a green kitchen, just bear in mind the following points:
There are lots of different types of green.  Some will contain more yellow and some more blue.  Others will contain more grey or be a muddier olive option.  Ensure that you take into account the entire room and the area around, if you are in an open plan environment, when you select the green.
As the colour is such a feature, keep the benchtops and splashbacks simple.
Always consider the cabinet door handles and tapware right at the beginning.  Yellow and green are next to each other on the colour wheel and make a harmonious colour scheme which is why you usually see brass handles with green joinery.
Before embarking on any decorating scheme, put together a mood board of inspiration, colours and finishes and include the entire area so that you end up with a look that is cohesive and one you love.  I have a FREE e-book on putting together a mood board in my Free Resource Library.
I have some related articles that you may be interested in:  How to choose kitchen door handles, How to select a kitchen benchtop, and How to choose the right kitchen splashback
</