I am often asked by clients what colour do I paint my downpipes?  This can be pretty straight forward but always causes a lot of consternation, because let's face it, who wants to make a feature of the plumbing?  It is trickier however if you are installing new downpipes that are Colorbond and therefore you are faced with a limited range of colours.  I have some tips to help you to decide what colour your downpipes should be.
Options for painting downpipes
If you have PVC downpipes, I recommend that these are painted to match the relevant wall colour that they are against.  This is very straightforward if your entire house is a paint finish.
Downpipes often run down posts so you paint this one to match the post and the ones on the wall to match the wall.
If you have weatherboard on the upper level and a different colour on the lower level render then I recommend painting the downpipe in the two colours so that it just blends into the wall.
If however you have a brick wall, you need to match the downpipe to the main colour of the brick.  This won't necessarily be the same as the gutter which often will tie into the roof colour.
You can always use your window colour as a reference point too.  For example if you have black windows with a grey brick, rather than trying to find the right grey to match the brick you can paint the downpipes in black to match the windows.
You can see on the house above that the downpipe has been painted to match the trim and blends into the wall colour.  The same house is featured in a different section below and at the rear they chose to highlight the downpipe.
The downpipe at the front of the house above has been painted to match the post.  As the posts are a bright white this is important as the Surfmist of the roof, gutter and facia would have looked too dark right next to them.
Related: How to select roofs, gutters and facias
When would I make a feature of the downpipes
My answer to this would be rarely, however sometimes a house can benefit from some bolder statements.  If you have a lot of trim in one colour you can often paint the downpipes in this colour.
Downpipes are placed, wherever possible, on posts or at corners.  I always try to match the downpipe to the post, however a highlight downpipe can work well on a corner to define the edge, as long as it ties in with other trim colours on the house.  For example, balustrades, windows, architraves and garage doors etc.  On the house below the downpipe works here alongside the strong vertical elements of the colour design.
The black downpipe on the house above works well with the black windows.
You often see dark downpipes on heritage houses too.  The downpipe on the house below actually looks great and works well with the other dark tones.
If you are using a feature downpipe, particularly against a heritage or aged brick, I always prefer darker colours and black or Colorbond Monument works well in this instance.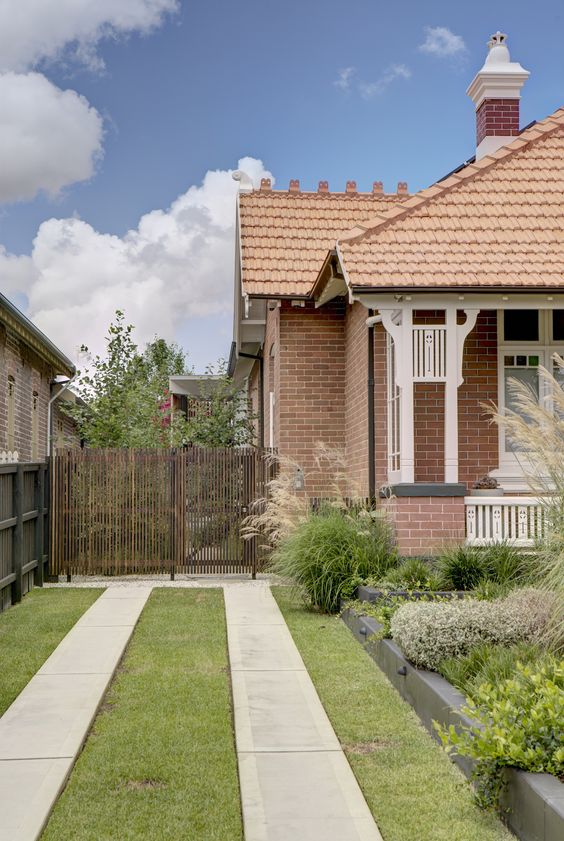 The dark downpipes look great on this heritage house.  They provide some definition as does the gutter against the terracotta roof.  You should often use the windows and trim as a guide for downpipes but in this instance the black works much better with the brick.
How to choose Colorbond downpipes
The Colorbond range is limited so this can make this decision trickier.  There are benefits to selecting Colorbond downpipes as they are good quality and will last longer than a paint finish.  This is a particularly good idea if you have a brick home that won't be repainted over the years.
Most of the Colorbond choices have an undertone of colour and it's important to understand what these are if you are trying to match one to your chosen paint colour:
Colorbond Surfmist has a slight green/yellow undertone but is pretty neutral.  This undertone would show up against a crisp blue/white wall though.  The house below has a Surfmist roof and gutter but then a fresher white for the painted facia and weatherboards.  The white chosen though is not too bright and therefore still works with the Surfmist downpipe.
Related: Using Surfmist as a trim colour
Colorbond Shale Grey has a very slight green undertone but this does make it quite a nice neutral grey.  This can be a good option if you have a shale grey roof and silver windows and could be preferable to Surfmist on a very white house.
Colourbond Windspray has a green/blue undertone which works well against grey bricks or render with similar undertones.
Colorbond Paperbark has a yellow undertone and works well with sandy coloured bricks or sandy neutral tones as in the house below.
Colorbond Basalt has a blue undertone and looks good against the mid grey range of bricks.  This can also be used with paint colours that are mid to dark grey and have a blueish undertone.
Colorbond Woodland Grey has a green undertone and is one of the most neutral of the dark grey Colorbond range.
Colorbond Monument is a great neutral off black.  It sometimes can read a little brown and people who love charcoal dark greys sometimes don't like it.
Final points to remember
Generally, try to paint downpipes the same as the substrate they are on.
If using Colorbond downpipes, match as closely as you can or use them as a highlight feature and tie the colour in with the trim of the house.
Against bricks, particularly dark or heritage bricks, dark downpipes are preferable.
I hope this has helped with your dilemma of what colour to paint your downpipes.  I have lots of advice in my Free Resource Library including comprehensive checklists and e-books.  You can download them all for free here.