British Colonial Style is a favourite of mine as it is a reminder of a gentler age, without technology, where you are invited to sit in a comfy chair and while away the afternoon.  Read further to see how it is related to current decorating styles and find out my top 7 tips on how to re-create this look for your home.
Some of the links in my posts are affiliate ones which means I may get a small commission if you click through and purchase something.  This helps me to keep my blog up and running and in no way is an additional cost to you.
At its height in the 19th and 20th centuries, the British Empire spanned the globe and the romance of exotic travel was an exciting reality for the lucky few.  Those who established trading posts and tea and coffee plantations in far flung places like India, the Caribbean, Africa and the Far East, brought with them traditional styles from Britain that were translated and successfully adapted locally.
The merging of these varied styles created a look that is still emulated today and evokes a bygone era that was genteel and elegant, while at the same time appearing relaxed and comfortable.
This is known as British Colonial Style and following are my 7 steps to achieve this look.
1) Well travelled leather trunks
One of the main inspirations behind the style were the beautifully aged and well-travelled rich nut brown and tan leather trunks.  With their brass buckles and clasps, they are gorgeous pieces which are still used today in decorating schemes to evoke this look.  These trunks are also fabulous for storage and/or side tables in small houses and are therefore a mainstay of this scheme.
2) Rattan and teak furniture
The soft tonal variation of light rattan and the neutral warm brown of local teak furniture is a classic combination which gives the plantation style chair its unique appeal.
Day beds in the Plantation style are also popular and a great place to while away the afternoon.  You don't really have a classic British Colonial Style scheme without one of these.
3) Exotic textiles
Traditional soft chintz designs from England gave way to textiles printed with far more exotic patterns depicting local scenes, flora and fauna.  These were very contemporary at the time and have enjoyed a renaissance recently with the Botanical trend taking hold.  Animal prints too are in vogue and evoke this look when introduced as accents.
4) Indoor greenery
Included in the very natural colour palette of browns which derived from leathers, timber, rattan and bamboo were injections of rich dark green.  This gorgeous green came from the large graceful indoor palms that graced the rooms.  Faux greenery is very effective now so you don't even need to worry about remembering to water the plants.  This is another element that has enjoyed a revival and is really integral to the British Colonial Style.
5) Soft whites with dark shutters
Soft chalky whites from plastered walls, dark timber panelling, billowing white drapes and rich dark brown shutters created great tonal variation. This strong variation gives you a very classical look and is therefore integral to British Colonial Style.
6) The canopy bed
The four poster bed was a hallmark of this style.  Not in the old traditional English style, but in a more pared back and contemporary (for the era) adaptation.
Related: How to choose canopy beds
7) Comfortable places to sit
Oversized, comfortable sofas and large rattan chairs with rattan and timber side tables complement the look and of course the classic Plantation chair.
Updated versions of British Colonial Style
Do you like this look but feel it may be a little outdated and stuffy for you?  If you look closely at this style though and you will see that it is also the basis for so many more contemporary styles that we love today.
British Colonial Style is the basis and forerunner for our much loved Hamptons and Caribbean styles.  These styles have their roots in classic British Colonial Style, as do the popular Plantation and Island styles.
When you are looking at the classic styles of today you will see that many of the elements are the same but the look has been lightened.
In place of some of the rich mahogany and nut brown finishes are fresh whites and soft greys.
Where green plays a large role in the British Colonial Style of decorating, beautiful blue to evoke the ocean, takes its place for the Hamptons style of decorating.
Elements like gentle overhead fans, rattan and leather trunks and cases, panelled joinery finishes for walls, occasional chairs in rattan and simple canopy beds are all the same.
Just change the colour palette and update slightly and there you have the Caribbean or Island style of decorating.
It is not a surprise that the Caribbean style is similar.  Many of these island were colonized by the British, so this is to be expected.  One of the main elements that I see the same are the beautiful bamboo tables and chairs. The beauty with Caribbean style too is that you also have the influences of French decorating.  This is certainly a winning combination.
I also see so many elements of this style generally in contemporary decorating.
The greenery trend, which is so popular at the moment, together with cushions and artworks from the current Botanical trend, all relate back to this original look.
And of course our love affair with plantation shutters continues to be very strong.
So if you want to recreate British Colonial Style in its entirety you really need all of the elements in my list.  In particular the darker colour palette and a beautiful plantation chair or daybed are obligatory.  However you can pick and choose some of the styling elements and create a lovely Hamptons, Caribbean, Tropical or Contemporary style.
Remember, there are very few new ideas.  However, updated versions or elements used from earlier styles are just as effective as this modern adaptation pictured below of British Colonial Style shows.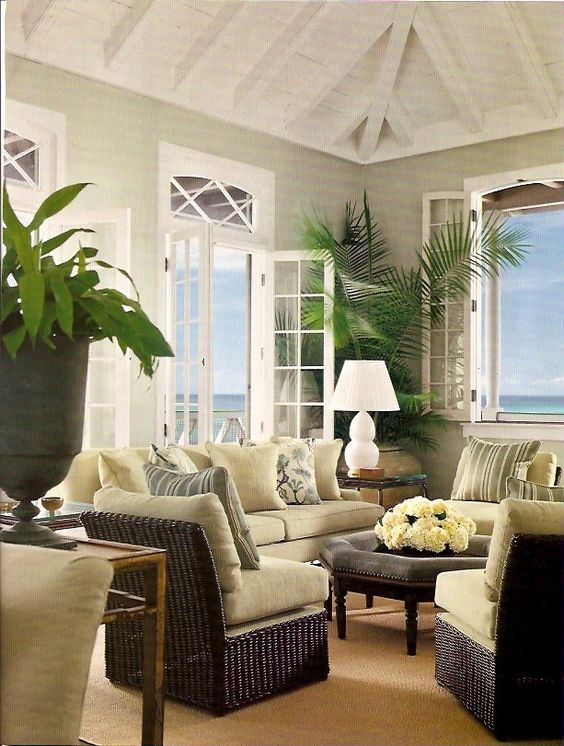 I'm off to Singapore soon so will call in to Raffles Hotel to get my injection of British Colonial Style.  I will grab a Singapore Sling or two, while sitting in a comfortable rattan chair and being kept cool by an overhead fan – bliss!
If you love elements of this style you will enjoy the inspiration on my Pinterest boards.  I have one dedicated to this look.  I would love to hear from you if you have used any of these decorating elements in your recent projects or have plans to.  Just leave me a comment below.
Do you love the idea of putting together a scheme like this but don't know where to start?  Then you should download my free guide on how to put together a mood board.  This is a great starting point to get organised and focus your ideas.  I have this and other checklists and e-books in my Free Resource Library – you can sign up here.
Want to read more about the greenery trend and see how it relates to these gorgeous styles?
Related: How to incorporate the greenery trend
Related: Hamptons Style – 7 steps to achieve this look
I have curated mood boards for your bedroom, living and dining rooms of furniture and accessories for a British Colonial Style.  These items are ready to buy now from suppliers in Australia.  Click on the image below to take you through to my Shop the Style page.
Shop the Styles, British Colonial
If you are currently renovating or decorating your home you may like to make use of my online e-consultation service.  I can answer just one question that has been driving you mad or I can help you put together a complete colour scheme.  You can find out more here.