There can be a misconception with choosing the right colour to paint your eaves.  Often people group eaves with the fascia.  Sometimes the right colour can relate to the trim of your house but this is not necessarily always the case.
Eaves, or soffits as they are sometimes referred to, often pose a problem when it comes to a colour choice.  It is usually the very last colour decision to consider and often one that people don't even realise they have to make.  I explain to clients that the eaves are the external ceilings.  However, as with an interior ceiling, if you get the tone wrong it can throw the entire scheme.
With modern design and large alfresco areas, this colour choice is really very important.   So if you would like to find out more, I have a number of points to bear in mind in my guide to painting eaves.
Eaves are the external ceiling colour
Remember when choosing an eave colour to treat them as an integral part of your exterior colour scheme
Choosing a colour and tone to paint your eaves is like choosing a colour for your interior ceiling.  The main point that I tell clients is to remember that when a colour is horizontal, it is twice as dark as on a vertical wall.  You can see this by getting a large sample of a wall colour – you can even see it with a white – and look at it straight on and then look up at it in a horizontal position.  You can see quite clearly that it is darker.
The rule of thumb for interiors is a full strength of a white on the wall and half on the ceiling.  This will make the whites appear the same. For more contrast, you can use a quarter strength of the same white.   Therefore this is quite straight forward for an exterior white.  For example, if you are painting the walls in Colorbond Surfmist, you can ask the paint shop to mix you a half strength for your eave colour.
It gets a bit trickier though when you are selecting a darker neutral or grey for the walls or indeed if you are using a face brick with a dark trim.
How to choose the right colour for your eaves against a darker wall
Again, consider this from the viewpoint of an interior scheme.  If you have a darker wall you have possibly chosen some light white trim to go with it, either on the fascia/barge board or for the windows and architraves.  You can use this white/off white as a reference point but rather than opting for a half strength as I would with an internal ceiling, I usually go with the full strength of the trim colour for the eaves.
If you make the eave colour too light against your darker wall you end up with a bright white ribbon around the top of your house.  Depending upon the aspect of the house – for example if it is on the high side of the street and you look up to it – this can be very disconcerting and can spoil the entire look.
The three colours on this house are Taubmans Iron Age, Taubmans Grey Comfort and Taubmans Ash Brown.  These colours are all from the same range at Taubmans and I selected a lighter option from the group for the eaves – Taubmans Classified.  Although the eaves are nice and light and actually look white, Taubmans Classified is definitely not a white when you look at a sample of it.
Main point to remember with selecting an eave colour is not to go too light
The house above has a light Colorbond Dune roof but the owner has added a nice dark gutter to tie in the render colour and then added a white Surfmist fascia and used this as a guide for the eave colour.
The right colour for your eaves though does not have to relate to the trim/fascia colour of your house.  For example you may have a house with a mid-tone neutral and a charcoal gutter and fascia.  Most likely you will not want a charcoal eave.  Therefore, you need to select the wall colour first and then look at the relevant commercial colour Atlas/fan deck to see this colour as it gets a lot lighter.
I tend to favour slightly darker eaves.  My advice with exterior colour is that you often need to select one that is much darker than you originally think and this is the same with painting eaves.  A beautiful exterior scheme can be spoilt with eaves that are too light.
For the house below, I specified a mid grey for the walls and a light grey for the eaves.    The painter was not happy!  He said that the eaves would be too dark and that the client should opt for a white (just as many people and many painters like to just use a bright harsh 'ceiling white' for interior ceilings).  However, I think you can safely say that the eaves on the house below look like a white.  It just doesn't have the jarring quality of a brilliant white that would have spoilt this house.  I am happy to say the client stuck with my choice.
Dulux Stepney for the walls and Dulux Dieskau for the eaves
Therefore if you make a colour selection for your walls, take the time to find out what it is in its lightest version.  If you still feel it is too dark you can ask for a half strength of the lightest version.  Remember to test it out first too so that you can see the overall effect.  The paint store should be able to help you with this but if you are really stuck, a colour consultant would be able to help.
You may also need some assistance if you have selected a face brick and you are using a dark gutter and fascia.  You need to look at the brick tonings and match them to a paint colour and then see that in its lighter incarnation.
How to paint ceiling rafters
I usually treat exposed timber rafters slightly differently as a large portion is in a vertical position and also joins directly to the fascia board and posts.  I tend to just paint these the same colour (often a white) as the posts/balustrades/fascia etc.  If you are using dark posts, fascia and balustrade then of course you can also paint the rafters in the same dark colour.
Related: Why I love a crisp white trim
Dark contrasting eaves
As with interior ceilings you can do some clever tricks to manipulate the feel of a room.  By painting an internal ceiling a dark colour you really define the lighter walls and lower the appearance of the ceiling.  There is nothing to prevent you from doing the same thing with the eaves on your house.  Painting them black to match your gutters and fascia is very striking and brings a strong contrast to the roofline.  You can see the effect here: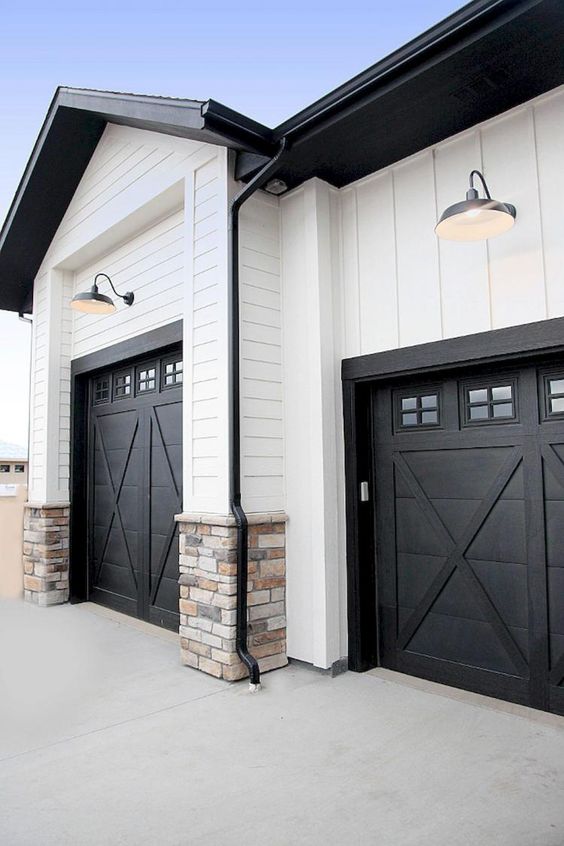 Related: Manipulating a space with colour
This house above is a particular favourite of mine.  Designed by Catalano Architects in Boston, they have cleverly linked the lined eaves with the sophisticated grey trim colour for the house.  I really like this effect.
Eaves lined in timber are also very effective as again the darker eaves can make the house more appealing.  Therefore don't automatically think that you have to paint them a bright white.
How to choose the right colour for an alfresco ceiling
Many homes now are designed with large Alfresco areas that lead off of an indoor space with doors that open up completely.  In this instance indoor/outdoor ceilings are almost as one.  Your indoor ceiling may be very light, something like Dulux Lexicon Quarter strength and unless you have opted for a very crisp white exterior it is unlikely that this light, bright white would work for exterior eaves.
This is where you have to make a compromise.
Assess the exterior colour and what you think to be the right eave colour and look at it against your indoor ceiling colour.  You might need to adjust it to be a bit lighter so that you don't completely spoil the flow but don't be tempted to match it (unless you do have a very bright white house).
Always consider the overall look of the exterior – this is the most important element.  To be honest how many people stare up at the ceiling of an indoor/outdoor room?  In these instances you can make a feature of the Alfresco ceiling.  You could perhaps line it with cedar boards or simply install a shiplap finish in an off white.  By creating a different substrate, you can then get away with a different colour and/or tone.
If your Alfresco space is self contained and doesn't flow through to the main eaves of the house then you can easily treat this ceiling differently.
Related: How to link your outdoor room to the inside – 5 easy steps
My final point on choosing a colour for eaves
Don't forget that the eaves of a house are where the spiders make their homes too and if you have traditional rafters or rough hewn beams they can easily get very dusty. Despite your best efforts with a Turk's head (if you can reach that high) eaves are often the first surface to get really dirty on an exterior.  This alone should strengthen my case for slightly darker whites or neutrals here!
I offer an online colour consultation service if you are stuck with selecting your colours.  From just one key question that is troubling you, through to a full colour scheme, I will have a package to suit you.  I can also tailor packages for you too.  You can find out more here.
If you are renovating or building a new home I also have e-books and checklists to help you.  These can be downloaded for free here.