Colorbond Dune has been a mainstay in the range for many years and is still an extremely popular choice.  I really like to use it for a number of reasons which I will tell you below.  If you're considering a new roof or are building a new home, this may be one of the colours from their light range that you have considered.  It's a popular colour for paint too.  Let me show you how to use it here.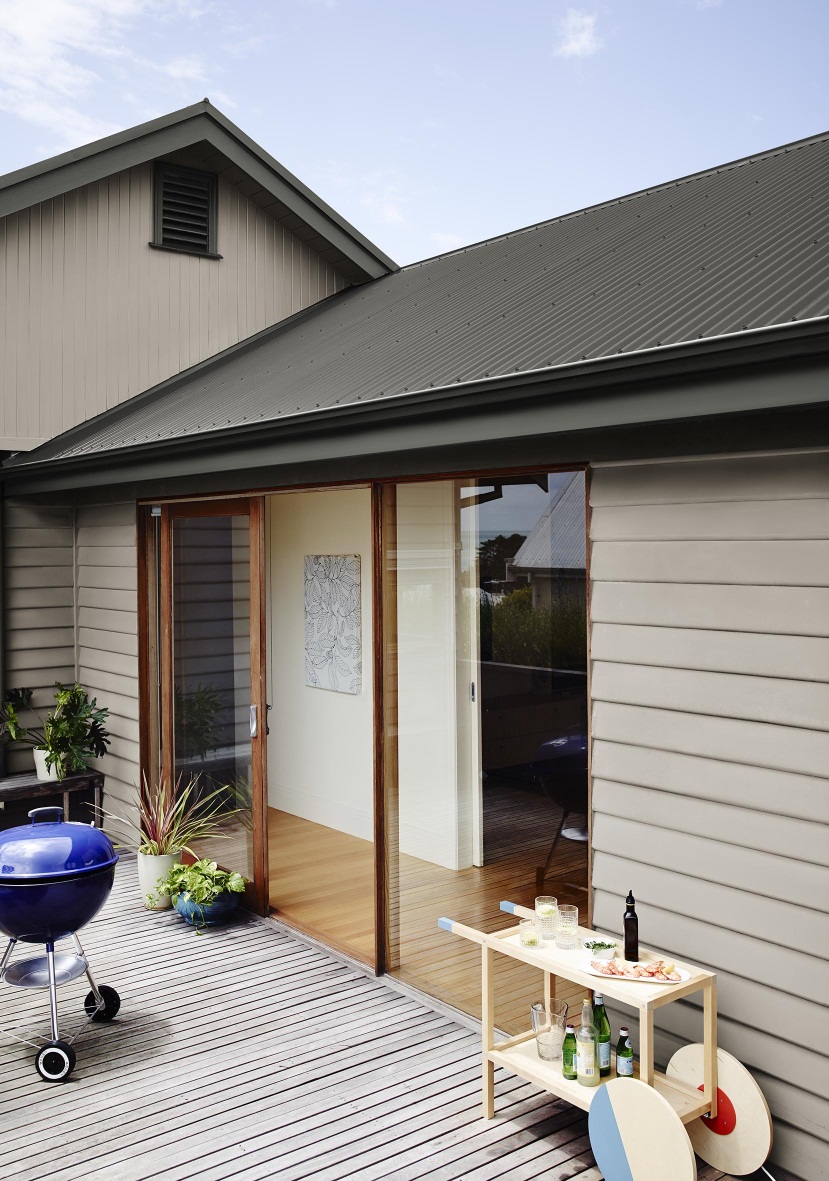 Colorbond Dune has been used as the paint on the weatherboards above and partnered with Colorbond Woodland Grey.
The light colours in the Colorbond range
The following are the light colours available through Colorbond.  Depending upon the pitch of the roof and the time of day, it is sometimes difficult to tell them apart.  Often you can only be sure of which colour it is by looking at the gutters.
Surfmist – a classic white with a slight creamy undertone.  You should opt for the matt finish if you prefer your whites to be slightly more grey.
Shale Grey – an all time favourite, this is a cool silver grey which is also very neutral.  The best option for replicating the look of a zinc roof if you don't want to use that product.
Dune – another all time favourite, but in contrast to Shale Grey, this is a warm grey.  More about this below!
Windspray – starting to get a little darker, but still in the lighter grouping, Windspray is a gorgeous grey which sometimes reads blue and sometimes more green.
Classic Cream – this is a very creamy yellow that is perfect to use for Heritage homes.
Paperbark – this is a warm sandstone colour that works well on traditional and classic homes.
Evening Haze – with its subtle green undertone, this is a great neutral for a classic look home.
Surfmist, Dune and Windspray are also all in the Colorbond Ultra range for use in harsh environmental conditions, for example within close proximity to breaking surf.
The underlying colour of Colorbond Dune
So, Colorbond Dune is a warm grey as opposed to its counterpart, Shale Grey which is cool.  Dune has a pinkish/brown tone which I feel is closer to a greige than a true grey.  Often people baulk when I say that it has pink undertones but this is just the warmth of the grey showing through and actually makes it a very soft and approachable grey to use on your home exterior.
Luke and Jasmin on The Block 2020 used Colorbond Dune for their roof and gutters and then used it in a paint finish for the trim.
Which colours does it work with?
As it has these undertones, it is perfect to use with other greige tones.  Those browns that are on the cusp of being grey are the ones that look great with a light Colorbond Dune roof.  These are the classic neutrals that stay on trend for long periods and create a very classic looking home.   Dune is very similar to Dulux Calf Skin which has been a perennial favourite of mine.
Related: What is Greige? Find out how to use it in your home
Dune also works well with white but ensure that you partner it with a warmer white like Dulux White Exchange Half rather than a cooler blue based white.  Very sharp whites like Taubmans Crisp White will also go well with Dune.
I love to see Dune with natural sandstone hues or reclaimed bricks, which are the perfect complement.
In terms of other Colorbond colours, Dune works really well with Surfmist and Wallaby.  I also like to use it with Woodland Grey and it can be used with Monument, which pretty much goes with everything!
Dune is available as a matt finish
Colorbond has a small range of their colours in a gorgeous new matt finish and Dune is one of them.  I prefer Dune in the matt finish as it becomes more of a grey than a brown.  Kyal and Kara used it on one of their recent homes, below.
Using Colorbond Dune as paint
You can match any of the Colorbond colours to paint and Dune is a really great exterior colour.  It certainly does have that pink undertone but this makes it a lovely soft tone which contrasts well with Surfmist and goes really well with other exterior brown tones.
Shown in the image above, partnered with Surfmist and Colorbond Wallaby on horizontal boards, roof and gutter.
Related: Using Surfmist as a trim colour
I like to use Colorbond Dune on weatherboards too as you get the nice shadow line to break up the paint colour.
You will notice that on all of these images, Dune can look quite different, which is a salutary lesson in not taking at face value colours that you see and love on the internet.  I always recommend that when you are interested in a paint colour, particularly for an exterior, that you paint a large board with two coats of the colour and then hold it up next to your house.  You should view it at different times of the day and in different locations, to ensure you love it.
You should also be able to view large sheets of Colorbond at a roofing supplier which should help in selecting the right one for your home.

You may also be interested in How to select roofs, gutters & facias.
If you are building a new home or renovating an existing one, you should check out my FREE Resource Library which has comprehensive checklists and e-books to help you with your project.  You can download them for FREE here.