I really like to use black accents both inside and outside of my home, however pure black can sometimes be too heavy, particularly over a large expanse.  I was therefore really pleased when Colorbond introduced Monument into their range.  It has been with us for some time now and is extremely popular with my clients.  The appeal of it is that it is a very dark grey/off black which is very neutral.  This post will show you how to use Colorbond Monument on your home.
What are the other dark Colorbond colours
Colorbond NIght Sky is pure black and is a mainstay in the range.  I like it for gutters but I don't like it for roofs as it is simply too heavy, particularly for the majority of the Australian climate.
Colorbond Woodland Grey is an absolute classic in the range.  Previously called Slate, Colorbond updated it some time ago and it became just a touch more green.  A lovely dark grey but it does have a definite green undertone which doesn't suit every scheme.
Colorbond Ironstone is a charcoal blue which does become more blue as the sun hits it and therefore only suits certain schemes.
Colorbond Wallaby is a little lighter and its name describes it well – a gorgeous rich grey brown which suits schemes with greige and warm whites.
Colorbond Basalt is lighter too and is a nice grey that suits many homes.  It does have a blue undertone although not as significant or obvious as Ironstone.
The appeal of Colorbond Monument
The reason that so many people opt for Monument is that it doesn't have the heaviness of black nor the undertones of any of the colours mentioned above.  This makes it extremely easy to match as it works with pretty much any colour scheme.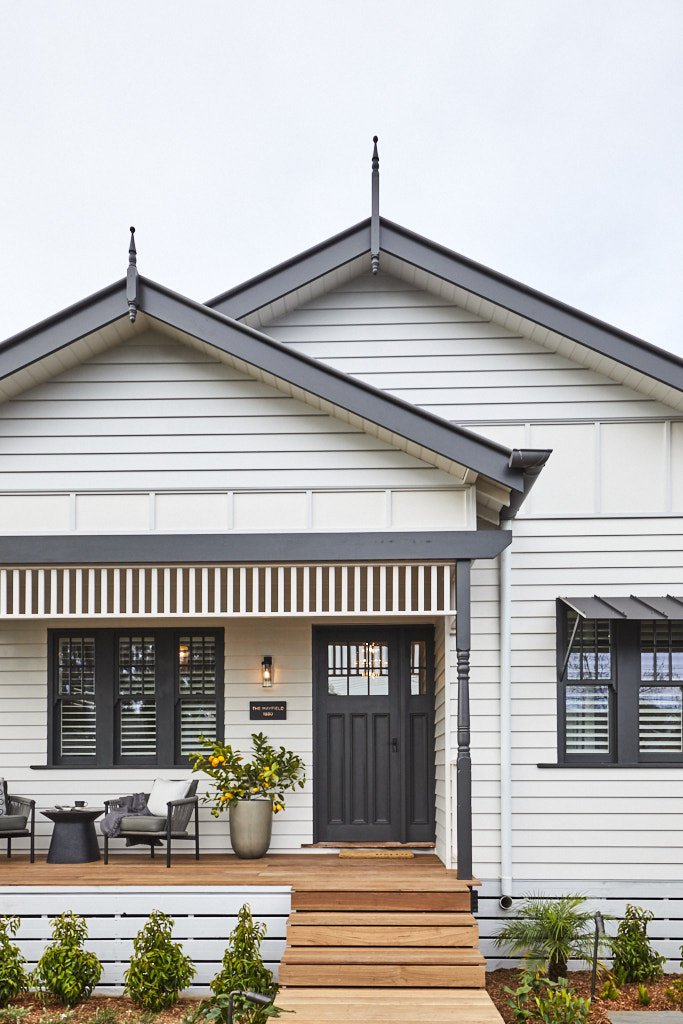 If anything, it is a warm dark grey and some people say it is a touch brown, but you really only notice this when it is next to other dark greys, that for example contain more blue or green.  To all intents and purposes it is a very neutral tone.
Colorbond Monument for roofs, gutters and facias
A Colorbond Monument roof suits many styles from a classic Hamptons home to an ultra contemporary one.  It works in coastal areas if the house is a contemporary one, but usually I avoid it for this look which I prefer to keep light and airy.  It is a classic roofing colour for an urban area and works well on a country style home.
My word of caution however is that it is one of the darkest tones in the Colorbond range and therefore absorbs heat.  Great in a cool area, but not suitable in a hot area where you need a cooler roof to reflect the heat.
You can however still incorporate this colour into your exterior scheme by using it on the gutters with a lighter roof.  This will define the roof well and is particularly effective on cottage style homes.  I like this definition – some people see it as a band around the house, but I see it as some contrast which is often lacking on exteriors.
Related: How to select roofs, gutters and facias
Colorbond Monument also works well for downpipes.  Generally, I like to paint these the same as the wall colour so that they disappear.  However, if you want to use Colorbond and not paint it, then this colour works well if you have other dark trim on the house, for example, Monument windows.
Related: What colour do I paint my downpipes
Colorbond Monument on walls
There is an increasing trend to also use Colorbond materials for external walls and Monument comes into its own here.  A standing seam profile should be used to get the right effect.  This is a great look for classic barn style conversions and homes. But remember that it can get hot!
When specifying Monument for walls, I always use the Matt finish.  This is a relatively new finish from Colorbond in a limited range of colours.  Matt finishes absorb more light than their more glossy counterparts and therefore each colour is darker in this finish.
How to use for painted walls
Paint companies will be able to match their paints to Colorbond Monument which means you can easily tie in other elements of your exterior to those in Colorbond.  The substrate you are painting and the finish that you select will make a slight difference to the appearance of the colour, but it will be negligible.  You should always match finishes where possible though, so for example, a low sheen painted finish on a weatherboard should match the posts and downpipes of the house too.  You can opt for a semi gloss or gloss for a front door or windows but otherwise, I like to keep the finishes as even as possible.
Colorbond fencing
I have to admit that I am not a great fan of Colorbond fencing but I do accept that it is very durable and an effective solution.  One of my go-to colours for fencing is Monument as it tends to recede into the background.  I actually really like timber fencing painted in Monument.  Greenery always looks stunning against a dark background, which is a good point to remember.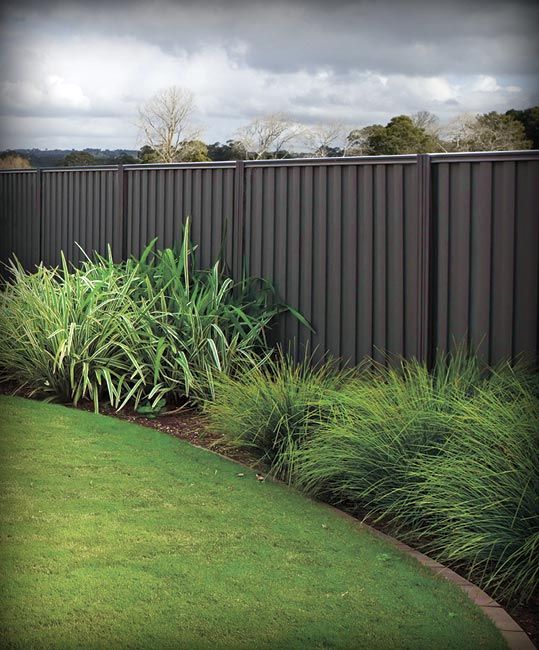 Which choice for a black window
When it comes to windows, I quite often specify Monument, however, this is one area where I do think that black can often be a better option.  If the interior of your home has some other true black elements, for example in the kitchen or in custom joinery, then I like to use black for the windows.  I probably use each as much as the other – they both look great but in some instances, one is the better choice.  If you are installing double glazed windows, these come in a limited range and one of my favourite choices here is black.  You can still use this with Monument on the external walls, it will just make the Monument appear as a dark grey, rather than an off black.
I hope this has answered your questions about how to use Colorbond Monument.  It is a beautiful neutral dark grey that is elegant and timeless.
If you are building or renovating your home, I have a FREE Resource Library with e-books and comprehensive checklists to download.  You can sign up for FREE here.
Are you interested in some of the other Colorbond colours?  I have a popular post on using Colorbond Surfmist as a trim colour and how to use Colorbond Windspray too.